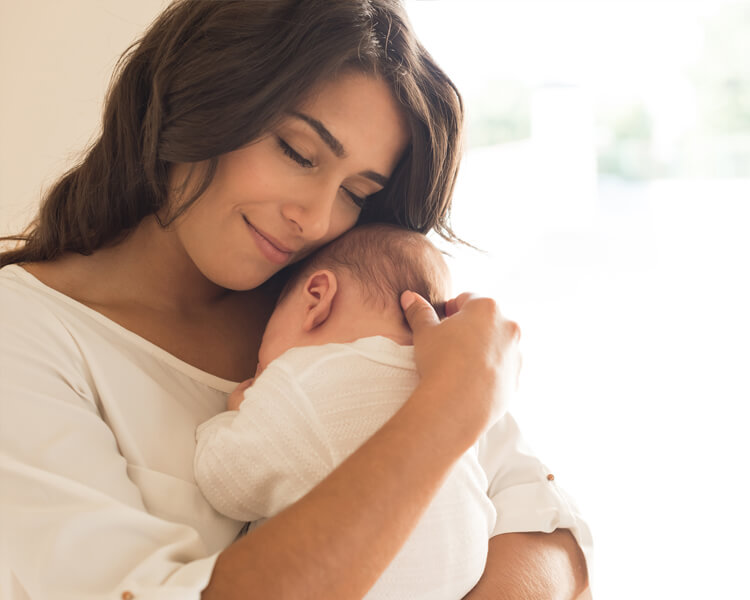 Model
Mommy Makeover in Houston, TX
---
Houston, TX plastic surgeon Dr. Warren Ellsworth IV frequently consults with women who desire to get their pre-pregnancy figure back.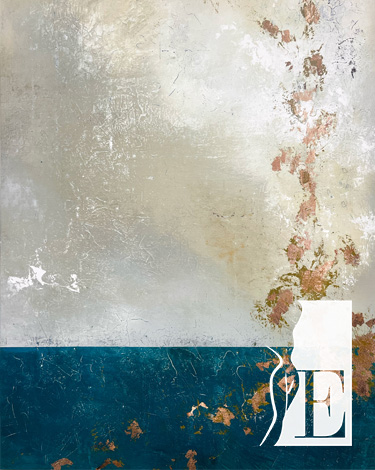 What Is A Mommy Makeover?
---
Even though childbirth is an exciting and amazing moment for a woman, it can alter the size and shape of various body parts — and this can leave one feeling frustrated. The great news is that it's possible to get a tighter, slimmer figure, thanks to the help of the mommy makeover procedure performed at Ellsworth Plastic Surgery. The mommy makeover procedure uses a blend of liposuction and skin removal to target the breasts, tummy, and lower body — essentially any area affected by pregnancy, weight fluctuations, or breastfeeding can be corrected. In addition, nonsurgical procedures can be used to smooth surface irregularities, such as hyperpigmentation and blotchy skin, from the quick fluctuation and stretching of the tissue and skin during pregnancy.
Schedule a Consultation
View Actual Patient Results
Individual results are not guaranteed and may vary.
---
Mommy Makeover Patient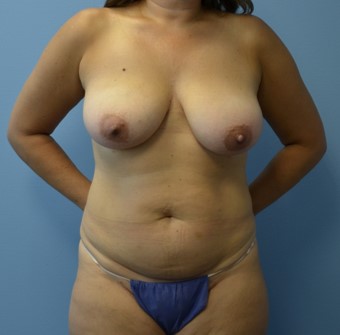 Before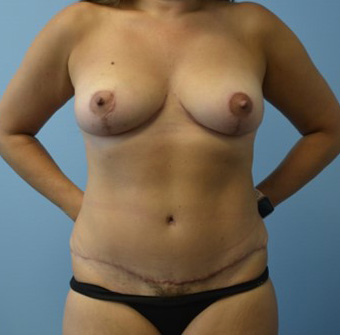 After
Mommy Makeover Patient
Before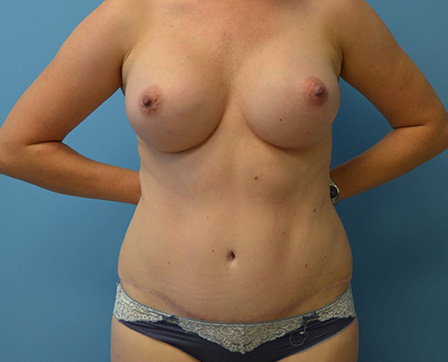 After
---
View More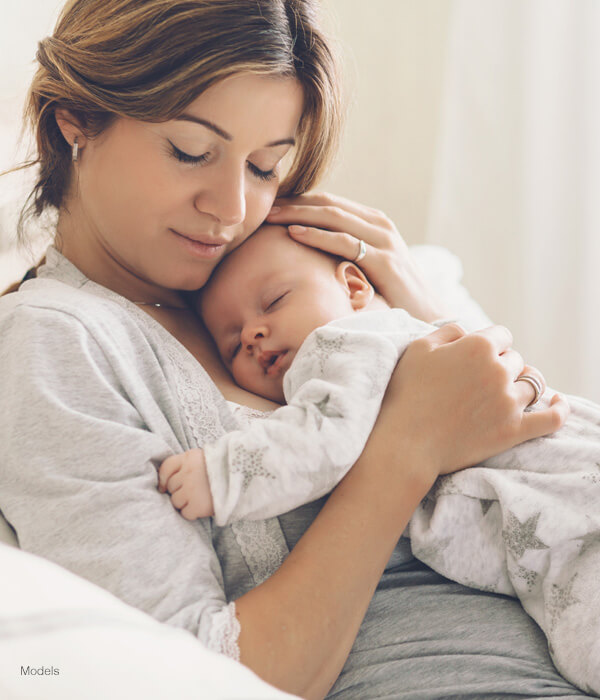 What Are The Benefits Of A Mommy Makeover?
---
A personalized mommy makeover created and performed by Dr. Ellsworth can have transformational results with a number of great benefits that include:
Improving multiple concerns and body areas
Tightening sagging, loose skin
Removing excess skin
Eliminating stubborn fat in problem areas
Diminishing stretch marks
Enhancing, lifting, and rejuvenating the breasts
Slimming and tightening the stomach
Boosting self-confidence and self-image
Helping you regain your pre-baby body

"Kind and Thoughtful Surgeon"
---
Google Review:
"If you're looking for a plastic surgeon who is attentive, professional and has genuine bedside manner, look no further… I am pleased and thrilled with my results!!"
– A.A.
Office Visit Review:
"Cannot recommend Dr. Ellsworth and his team enough. As a woman looking for good recommendations for a Mommy makeover… definitely go in for a consult with Dr. Ellsworth and his staff if you are shopping around for a plastic surgeon, you will NOT regret it!"
– K.M.
Facebook Review:
"Precise professional, master of body perfections. kind and thoughtful bedside manner and compassion with every explanation. Amazing"
– R.I.
---
Read More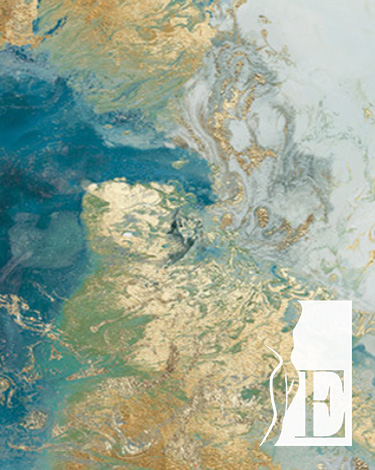 Who Is An Ideal Candidate For A Mommy Makeover?
---
The right candidates for a mommy makeover procedure are women who have completed pregnancy and childbirth and have worked to attain a tighter figure through diet and exercise with little result. For so many new moms, surgery is necessary to get their pre-pregnancy shape. If you have completed childbearing, but you are frustrated with the side effects left behind, such as sagging breasts, loose abdominal skin, or unwanted fat in the lower back, flanks, and buttocks, a mommy makeover procedure could be a great option for you. The goal of Dr. Ellsworth is to help you regain your pre-pregnancy figure so you can resume life without worry.
How Is A Mommy Makeover Performed?
---
A mommy makeover is a custom treatment tailored for patients by Dr. Ellsworth based on the specific body areas to be addressed. Many procedures can be applied together — the most common treatments are breast lift with or without implants, abdominoplasty, and liposuction. All of these procedures are performed using general anesthesia, taking 3 – 7 hours based upon the number of treatments. In addition, an overnight stay at the hospital may be required. Your treatment plan might also include nonsurgical skin rejuvenation, such as laser treatments and injectables, to soften facial lines and reduce surface irregularities.
What Should I Expect Following A Mommy Makeover?
---
After a recovery period in the hospital, you will start your recovery at home with rest and proper aftercare. This phase is generally a slow process. Standing upright will be hard the first couple of weeks, and a carefully followed home treatment protocol will be needed to ensure the incisions and sutures heal properly. The majority of women find the healing phase can take about six months. Even though the primary recovery could take months, most patients are able to get back to a normal routine within a couple of weeks. Working out should wait for approximately two months. In the end, this treatment at Ellsworth Plastic Surgery can make an incredible impact for women, giving them their self-confidence once again.
Mommy Makeover FAQ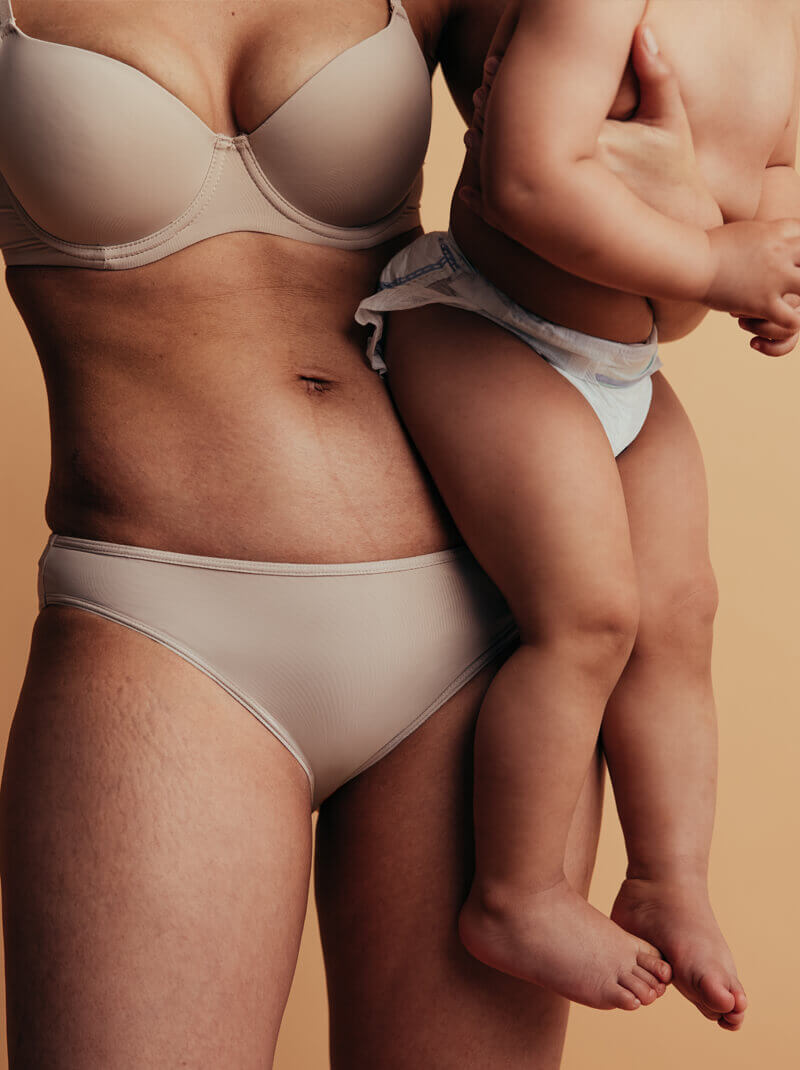 Model
How do I decide what to include in my mommy makeover?
During your initial consultation, Dr. Ellsworth will understand your concerns and goals before examining your body. After this, he can give you recommendations on what to include in your surgical plan. Typically, women select a breast surgery (an augmentation, lift, or both) together with liposuction and a body lift.
Will I have scars after a mommy makeover?
While a mommy makeover offers a beautiful new figure, it does leave surgical scars. Dr. Ellsworth will create clean, small incisions. Most scars that result from this surgery will be able to be concealed with swimsuits and underwear. When reviewing your post-surgical instructions, Dr. Ellsworth or a member of his team will go over scar care — so your incisions heal properly.
What if I get pregnant again?
Ideally, you should wait to have a mommy makeover until after all pregnancies have been completed — so the surgical results aren't compromised. Generally, all treated areas of your body are at risk for changing if you got pregnant again. Should you get pregnant after your mommy makeover, a second surgery can be done to refresh your results.
Reclaim Your Figure
---
Instead of feeling upset with your body while trying to rid those final pounds, we invite you to phone Ellsworth Plastic Surgery in Houston, TX to learn more about the mommy makeover procedure. Drooping breasts, wrinkles, and other skin irregularities can be fixed with this effective surgery. When in for your initial consult, plastic surgeon Dr. Ellsworth will talk about your concerns and create a tailored surgical plan to correct each area. With the latest medical advancements and surgical experience, it is possible to regain the body you desire.
Schedule a Consultation