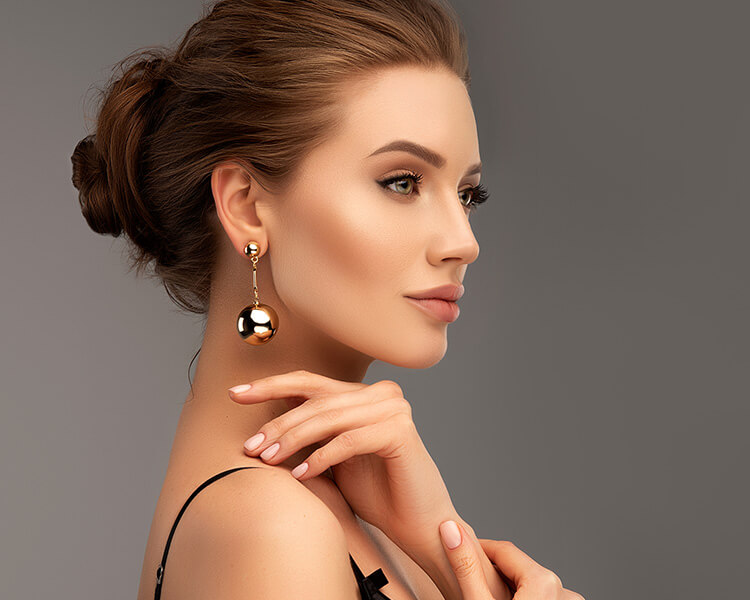 Model
Laser Skin Resurfacing in Houston, TX
---
Laser skin resurfacing at Ellsworth Plastic Surgery is a nonsurgical cosmetic procedure that uses pulsating beams of light to exfoliate damaged surface skin one layer at a time.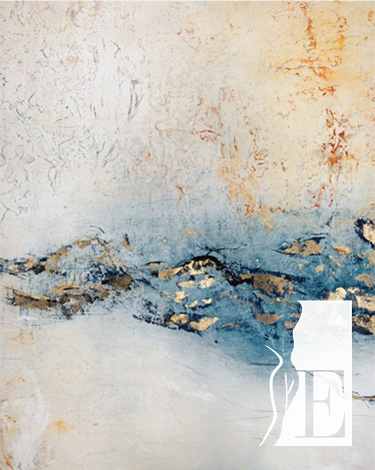 What Is Laser Skin Resurfacing?
---
The treatment is great for correcting facial lines and wrinkles and for improving skin blemishes, like acne scars, pigmentation, and more. Also called a laser peel, laser skin resurfacing is a great facial treatment for patients desiring softer, clearer, youthful-looking skin. Depending on the condition of the complexion, the laser will be adjusted accordingly. There is some downtime needed with most laser skin resurfacing procedures. Any concerns or questions can be discussed with Houston, TX plastic surgeon Dr. Warren Ellsworth IV during the consultation.
Schedule a Consultation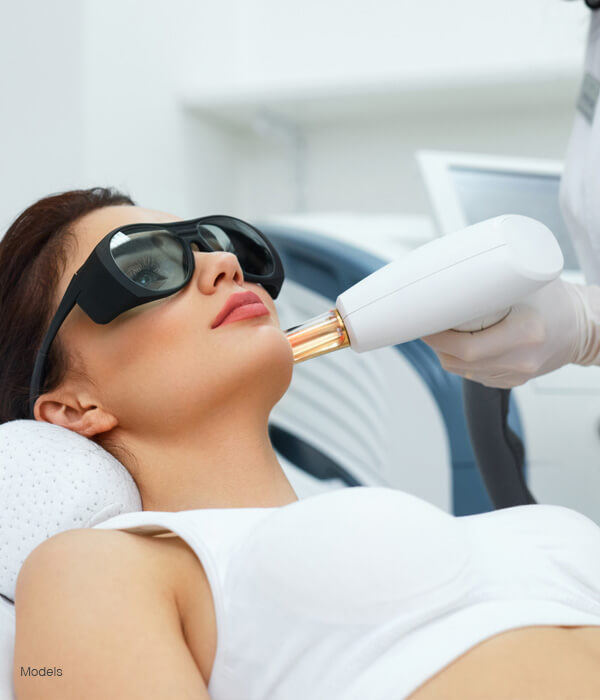 What Are The Benefits Of Laser Skin Resurfacing?
---
Laser skin resurfacing at our Houston, TX practice provides a number of excellent benefits to refresh and rejuvenate your look, including:
Offering ablative and non-ablative treatment options
Providing more comfort with no downtime
Clearing away dead, damaged skin cells
Reducing fine lines and wrinkles
Diminishing spots, discoloration, and imperfections
Promoting collagen production
Achieving a more youthful appearance
Shrinking overly large pores
Improving sun damage
Smoothing skin texture and balancing skin tone
What Is The Sciton® Joule™?
Ellsworth Plastic Surgery uses the Sciton JOULE platform, which offers minimally invasive laser treatment to target specific areas. The HALO™ handpiece, an extension of the Sciton JOULE platform, delivers non-ablative and ablative wavelengths, giving patients distinct results without downtime or discomfort. One of the most exciting benefits of this technology is the lack of invasiveness and discomfort that can sometimes accompany other laser skin resurfacing procedures.

"Kind and Thoughtful Surgeon"
---
Google Review:
"If you're looking for a plastic surgeon who is attentive, professional and has genuine bedside manner, look no further… Dr. Ellsworth and his team of amazing PAs, nurses and front office staff were amazing. I am pleased and thrilled with my results!!"
– A.A.
Office Visit Review:
"Cannot recommend Dr. Ellsworth and his team enough. As a woman looking for good recommendations for a Mommy makeover… definitely go in for a consult with Dr. Ellsworth and his staff if you are shopping around for a plastic surgeon, you will NOT regret it!"
– K.M.
Facebook Review:
"Recomiendo 100% al Dr. Ellsworth y todo el staff Que trabaja en sus equipo en especial Carina y Cecilia… Gracias una vez más por su ayuda, y excelente trabajo profesional."
– V.V.
---
Read More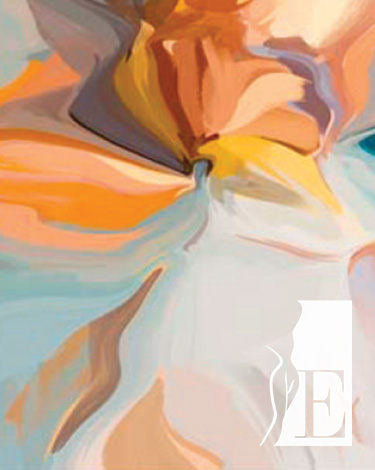 Am I A Good Candidate?
---
Laser skin resurfacing is designed for anyone who is unhappy with their general complexion. If you have sun damage, acne scars, age spots, lines and wrinkles, redness, or pigmentation concerns, laser skin resurfacing treatment can address these cosmetic flaws. In addition, laser skin resurfacing works well for patients who have scaly patches, rough texture, or other irregularities. This treatment is not recommended if you have very dark skin or active acne.
How Is It Performed?
---
During your session, you will relax in our treatment chair while the laser glides over the skin, precisely targeting specific sections for resurfacing. You will feel the warmth from the laser followed by cold air from the built-in cooling system. The laser works to eliminate dead and damaged skin cells while also stimulating natural collagen production.
Laser Skin Resurfacing FAQS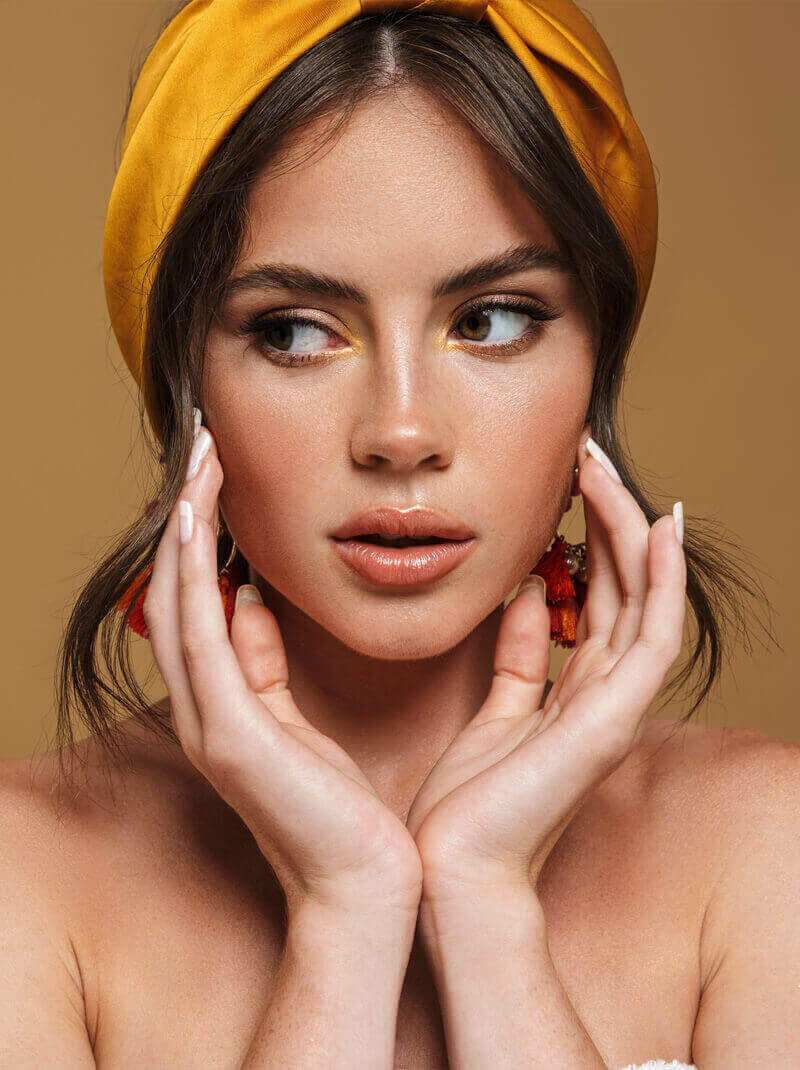 Model
How can I help my skin recover after laser resurfacing?
During your initial appointment, Dr. Ellsworth can discuss ways to speed the healing process and make the most of your results. The most important rule is to avoid peeling or picking flaking skin. You also need to avoid excess sun exposure and skin products that include harsh chemicals for a short period.
How often should I get laser skin resurfacing?
Ellsworth Plastic Surgery may recommend returning for follow-up appointments to ensure you achieve the best results from laser skin resurfacing. Based on your skin sensitivity and goals, we may wait several weeks or more in between laser sessions. The good news is that the anti-aging results from this treatment can last a long time!
How much does laser skin resurfacing cost?
The cost of laser skin resurfacing in Houston, TX, depends on the type of treatment you want and the number of sessions required. Since it can be hard to predict how many treatments you may need, we can discuss the costs with you during your initial consultation. We make sure our procedures are affordable and won't break your budget!
A Softer, Clearer Complexion
---
A laser skin resurfacing peel offers excellent results if you want a younger-looking complexion. If you are thinking about a laser resurfacing treatment and would like to learn more about them, as well as other nonsurgical treatments Ellsworth Plastic Surgery offers, we invite you to call our office in Houston, TX today to schedule your consultation with Dr. Ellsworth.
Schedule a Consultation